Create a Developer Account¶
Getting access to the Developer Edition is equivalent to creating a developer account. The Developer Edition is simply a dev account which supports creating and testing workflows via the web.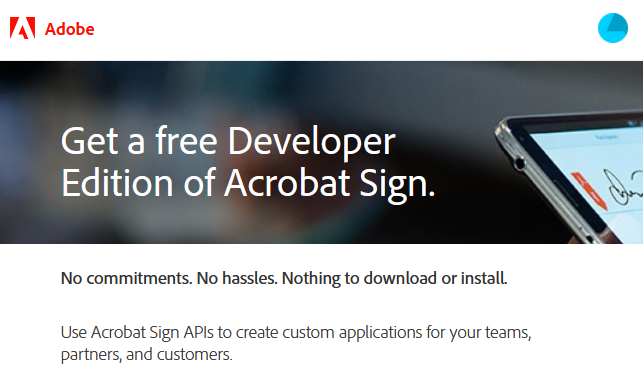 Ramping up only takes minutes:
Create an Adobe ID if you don't already have one.
Tip
If you'll eventually use your enterprise ID in a production environment, you may want to create a separate Adobe ID for development and testing.
Log in to your Adobe account.
Note
There may be a short wait while account provisioning is set up. Once completed, you'll be able to create signing workflows. Test documents are watermarked and appear with the text "DEMO USE ONLY".
Next steps¶
For real-world examples with additional details, see Example Scenarios.

Browse through the API reference to learn more about the request types and formats

Create a Hello World App: the simple workflow allows you to monitor the signing process from beginning to end: